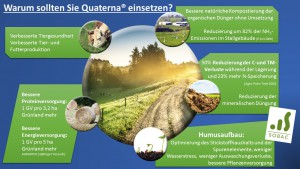 You want to improve your capital – the soil!
You want to reduce your production costs (input) with stable yields!
You want to produce as much milk/meat as possible from the basic feed!
You want to operate autonomously and profitably!
Compliance with EU regulations, as well as with N and P balances. Reduced N-fertilization at the same yield level!

Reduced use of operating resources

Considerable savings are possible in the area of fertilization and crop protection, while yields remain the same and qualities improve. These are based on improved N-efficiency, higher nutrient storage and recycling in the soil, increased plant available nutrients as well as reduced gaseous losses and leaching losses.

By converting the organic matter in the soil, pests are deprived of their basis for wintering. The competition of microorganisms in the soil builds up natural antagonists that contain unwanted fungi and insect infestations. The use of fungicides, insecticides and growth regulators is also reduced due to the improved plant quality and the reduced nitrate content in the plant and the resulting increased vitality, while yields remain the same.

Improved product quality

An improved plant quality is achieved through an adapted and needs-based nutrient supply. Examples include reduced nitrate contents in potatoes or reduced water losses in vegetables, which result in increased shelf life. A balanced energy:protein ratio in maize and grassland allows to produce a high proportion of milk/meat from the basic feed and to reduce expensive feed purchases such as soya and rapeseed meal.

Soil structure The formation of clay-humus complexes increases the soil's water retention capacity, nutrient storage and cation exchange capacity. Due to the increased proportion of soil pore volume, plants can root deeper and form denser rootstocks. The risk of yield losses is significantly reduced, especially in dry periods. The improved soil structure enables easier soil cultivation, which results in lower diesel consumption, savings in working time and reduced machine wear.

Composting Quaterna® considerably accelerates the composting of farm manure and ensures its quality. Reduced turning (labour and machine costs) and aerobic composting reduce carbon, water and nutrient losses. Farm fertilizers are upgraded and mineral fertilizers are saved.

 

Autonomous milk and meat production

The improved quality of the self-produced feed with a balanced nutrient and energy content increases the degree of autonomy. By increasing the proportion of legumes in grassland and in various mixtures, expensive feed purchases, such as soya, can be reduced. The rations are balanced and bring better animal health with them. Quaterna® significantly increases the resistance of grassland plants and ensures balanced growth of grasses and legumes!

 Economic efficiency

By saving on mineral fertilization and plant protection measures, production costs per hectare can be significantly reduced. We will be happy to draw up a cost calculation for your company together with you. This gives you an individual overview of how your current production costs are changing compared to those of Quaterna®.

Feel free to contact us!